Food Sovereignty
"Food sovereignty is the right of peoples to healthy and culturally appropriate food produced through ecologically sound and sustainable methods, and their right to define their own food and agriculture systems. It puts the aspirations and needs of those who produce, distribute and consume food at the heart of food systems and policies rather than the demands of markets and corporations." – Declaration of Nyéléni, the first global forum on food sovereignty, Mali, 2007
First coined by La Vía Campesina, the International Peasant's Movement, the concept of "food sovereignty" is one example of the potential to radically transform our current unsustainable, inequitable agroindustrial food system through the empowering of indigenous and peasant communities. While many have looked to science for solutions to our current food crisis, what is really necessary to push for large-scale change is a grassroots social movement that operates outside of our current industrialized, capitalist food system and instead prioritizes the fight against systematic exploitation, oppression, and colonization.
There are several misconceptions surrounding the idea of "world hunger." For example, many believe that world hunger is caused by the scarcity of food rather than systematic barriers to accessing food. Many others turn to the Green Revolution as the solution to food insecurity with its seemingly revolutionary use of modern technologies such as agrochemicals and transgenic crops.
The truth is, we are currently living in a time when global inequities are at their highest levels with nearly half the planet's wealth concentrated into the hands of just 80 individuals and a sixth of the world's population who qualify as "hungry." In fact, there is an extensive history of "de-peasantization" where small farmers were robbed of their autonomy and intentionally made dependent on green revolution technologies, leading to displacement by foreign companies or governments or trapping them in cycles of debt.
"Our modern food system is a true regime of food apartheid that undermines democratic and community control of our food systems. It does so with privatization/corporatization at the expense of people and the planet for profits." -Food First

"The food system is built upon land theft and genocide of indigenous people and the exploitation of Black and Brown labor. Black farmers currently operate less than 1% of the nation's farms, having lost over 12 million acres to USDA discrimination, racist violence, and legal trickery. 85% of the people working the land in the US are Latinx migrant workers, yet only 2.5% of farms are owned and operated by Latinxs. People of color are disproportionately likely to live under food apartheid and suffer from diabetes, heart disease, obesity, and other diet related illness. Labor laws continue to permit the exploitation of farm and food workers." -Soul Fire Farm
In Food Sovereignty: Global Rallying Cry of Farmer's Movements, Food First's Peter Rosset wrote that that "food sovereignty goes beyond the concept of food security… [Food security] means that… [everyone] must have the certainty of having enough to eat each day … but says nothing about where that food comes from or how it is produced." While food security is often limited to conversations about scarcity of food, food sovereignty takes on a more holistic, preventative approach by tackling the root causes of food insecurity and asking questions about power and control.
The six pillars of food sovereignty are:
1. Focuses on food for people
2. Values food providers
3. Localizes food systems
4. Puts control locally
5. Builds knowledge and skills
6. Works with nature
"Food sovereignty is not just about access to good, healthy food, or about sustainable forms of food production: it is about transforming society." -Food First
If we are to sustainably increase food production using less land and resources while taking into account an increasingly unstable, unpredictable future caused by the compounding effects of climate change, social unrest, and financial crises, it is vital to incorporate a social justice dimension to food security.
Professor Miguel Altieri of UC Berkeley proposes an alternative agroecological system based on centuries-old socioecological and cultural systems used by indigenous and peasant communities. The current industrial food system uses at least 75% of the world's agricultural land and most of agriculture's fossil fuel and freshwater resources to feed barely 30% of the world's population. In contrast, more than 500 million peasant farms around the world are using less than 25% of the land and almost no fossil fuels or chemicals to feed 70% of the world population.
If we are to envision a food system that is both socially just and environmentally sustainable, it is critical to fight for peasants' right to their seeds, land, water, and a market of their own.
Food Apartheid
One example of this intersection between social justice and food security is with the shift in language from "food desert" to "food apartheid." Food justice activist Karen Washington proposes to replace the term "food desert," areas void of good-quality, affordable fresh food, with the term "food apartheid" to take into account the systematic racism permeating America's food system.
"I was just in Pennsylvania and North Carolina talking about food deserts, and the topic of food justice and food sovereignty, and putting it out there that it means nothing to me. I asked people to define it, and, of course, they gave me their cookie-cutter definition: "Communities who have limited access to food." That means nothing. Who in in my actual neighborhood has deemed that we live in a food desert? Number one, people will tell you that they do have food. Number two, people in the hood have never used that term. It's an outsider term. "Desert" also makes us think of an empty, absolutely desolate place. But when we're talking about these places, there is so much life and vibrancy and potential. Using that word runs the risk of preventing us from seeing all of those things.

What I would rather say instead of "food desert" is "food apartheid", because "food apartheid" looks at the whole food system, along with race, geography, faith, and economics. You say "food apartheid" and you get to the root cause of some of the problems around the food system. It brings in hunger and poverty. It brings us to the more important question: What are some of the social inequalities that you see, and what are you doing to erase some of the injustices?" -Karen Washington
Reparations Map for Black-Indigenous Farmers
Another example of an attempt to build a more equitable food system is a digital project created by Soul Fire Farm, a BIPOC (black, indigenous, people of color) centered community farm committed to ending racism and injustice in the food system. This Reparations Map features different farmers of color all over the US seeking reparations: "financial payments made today to help make good on the systemic injustices of the past 400 years."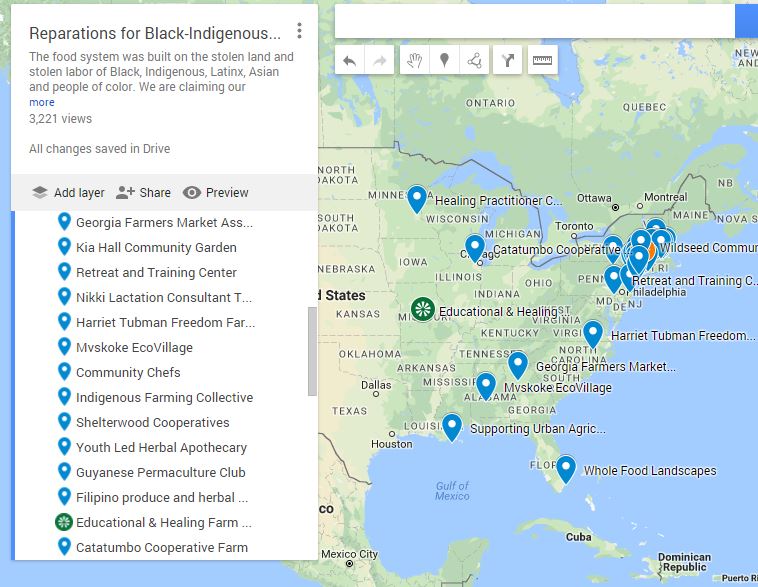 "The food system was built on the stolen land and stolen labor of Black, Indigenous, Latinx, Asian and people of color. We are claiming our sovereignty and calling for reparations of land and resources so that we can grow nourishing food and distribute it in our communities."
References
Brones, Anna. "Food apartheid: the root of the problem with America's groceries" The Guardian, 2018. Retrieved from https://www.theguardian.com/society/2018/may/15/food-apartheid-food-deserts-racism-inequality-america-karen-washington-interview
Collier, Andrea King. "A Reparations Map for Farmers of Color May Help Right Historical Wrongs" Civil Eats, 2018. Retrieved from https://civileats.com/2018/06/04/a-reparations-map-for-farmers-may-help-right-historical-wrongs/
"Food Justice and Food Sovereignty in USA" Nyéléni Newsletter, 2015. Retrieved from https://viacampesina.org/en/wp-content/uploads/sites/2/2015/09/2015-09-Nyeleni_Newsletter_Num_23_EN.pdf
Gerber, John. "Social Justice is a Core Component of a Sustainable Food System" UMass Sustainable Food and Farming Program, 2016. Retrieved from https://sustfoodfarm.org/2016/07/20/social-justice/
Grillo, Christine. "Transform or Reform?" Johns Hopkins, 2018. Retrieved from https://www.jhsph.edu/research/centers-and-institutes/johns-hopkins-center-for-a-livable-future/news-room/dodge_lecture/miguel-altieri.html
Holt-Giménez, Eric. "Food Sovereignty: Changing the Food System by Changing Everything" Food First, 2017. Retrieved from https://foodfirst.org/food-sovereignty-changing-the-food-system-by-changing-everything/
Mooney, Pat and Bassey, Nnimmo. "The road to food sovereignty" New Internationalist, 2017. Retrieved from https://newint.org/blog/2017/12/14/peasants-feed-world
Provost, Claire. "La Via Campesina celebrates 20 years of standing up for food sovereignty" The Guardian, 2013. Retrieved from https://www.theguardian.com/global-development/poverty-matters/2013/jun/17/la-via-campesina-food-sovereignty
"Strategic Goals" Soul Fire Farm, 2018. Retrieved from www.soulfirefarm.org/about/goals/