Fall 2018 Semester
September 5
Grizzly Man(2005), Dir. Werner Herzog
Environmental Humanities Film Screening
7 p.m., Arey 5
This film documentary chronicles the life of amateur grizzly bear expert Timothy Treadwell, a man with a most unusual and reckless enthusiasm for bears living in the wild. He periodically journeyed to Alaska to study and live with the bears. The outdoorsman and author, along with his partner Amie Huguenard, was eventually killed and devoured by one of the very animals to whom he had devoted years of study. Refreshments will be provided.
---
October 2
Audubon Double Elephant Folio page-turning session
2 p.m., Special Collectons, Miller Library
Special Collections holds monthly Audubon Folio page-turning sessions, which are open to the public and typically last 30-40 minutes. The spectacular Double Elephant Folio (Bien Edition) of John James Audubon's Birds of America was printed between 1858 and 1860 using chromolithography. The Folio is on loan from the Dorros Family of Wilson WY. Special Collections staff will turn pages, provide contextual details and answer questions. Special Collections is located on the main floor of Miller Library.
---
October 9
ES Afternoon Tea with Ken Ilgunas
3 p.m., Bobby Silberman Lounge
Interested in Environmental activism? Want to be a writer? Come to a conversation with Ken Ilgunas, author of Trespassing Across America: One Man's Epic, Never-Done-Before (and sort of Illegal) Hike along the Keystone XL Pipeline.
---
October 9
Trespassing across America: One Man's Epic, Never-Done-Before (and sort of Illegal) Hike along the Keystone XL Pipeline
Ken Ilgunas
7 p.m., Ostrove Auditorium
Ken Ilgunas walked nearly 2,000 miles across North America, following the proposed route of the Keystone XL pipeline, from Hardisty, Alberta, to the Gulf Coast of Texas. On his journey, he encountered stampedes of cows, charging moose, and climate change deniers. Learn about Ken's adventure, the world's first modern journey across private property, on which he trespassed over one of the most ignored, yet beautiful, regions of our continent–the Great Plains. He'll talk about the people of the heartland, the right to roam, and the stories that form the basis of his book.
---
October 17
Miles and Katharine Culbertson Prentice Lecture
Jaune Quick-to-See Smith
6 p.m., Given Auditorium
The Colby Museum is pleased to welcome artist, curator, and educator Jaune Quick-to-See Smith to deliver the 2018 Prentice Lecture. One of the most acclaimed Native American artists working today, Smith considers herself a cultural art worker, underscoring her social activism and her commitment to the preservation of Native American culture.
Smith, a member of the Confederated Salish and Kootenai Nation of Montana, is based in New Mexico and creates paintings and prints that combine appropriated imagery from commercial slogans and signage, art history, and personal narratives. Her multifaceted work addresses today's politics, human rights, and environmental issues with humor, and is grounded in themes of identity.
---
October 17
Okja (2017), Dir. Bong Joon-ho
Environmental Studies Film Screening
7 p.m., Arey 5
For 10 idyllic years, young Mija has been caretaker and constant companion to Okja – a massive animal and an even bigger friend – at her home in the mountains of South Korea. But that changes when family-owned, multinational conglomerate Mirando Corporation takes Okja for themselves and transports her to New York, where an image-obsessed and self-promoting CEO has big plans for Mija's dearest friend. With no particular plan but single-minded in intent, Mija sets out on a rescue mission. The gentle giant and the girl who raised her are caught in the crossfire between animal activism, corporate greed and scientific ethics. Starring: Tilda Swinton, Jake Gyllenhaal, An Seo Hyun. Refreshments will be provided.
---
October 23
F. Russell Cole Distinguished Lecturer in Environmental Studies
Jon Foley
7 p.m., Ostrove auditorium
Climate change… Extreme weather events… Tropical deforestation… Worldwide overfishing… Plastics in the ocean… Collapsing water supplies… Emerging threats to our health, economy, and security… The news on the global environmental front is grim. But what if there was a practical plan, based on the latest science, that could turn it around, and help us build a better future? That's what PlanetVision is all about. PlanetVision is a multi-faceted set of solutions – focused on fixing the world's food, water, and energy systems – that can help us pivot to a better, more sustainable world.
Rich with the latest insights from environmental science, emerging solutions from every part of the globe, powerfully motivating stories of practical solutions, and beautiful images, this presentation speaks to broad audiences, giving them a sense of hope for the future.
---
November 12
Upstream Color (2013), Dir. Shane Carruth
Environmental Studies Film Screening
7 p.m., Arey 5
After unwittingly undergoing a series of bizarre experiments, a woman (Amy Seimetz) meets a kindred spirit (Shane Carruth) who may have experienced the same ordeal. They are drawn together, entangled in the life cycle of an ageless organism. Identity becomes an illusion as they struggle to assemble the loose fragments of wrecked lives.
---
November 28
Environmental Studies Film Screening
Beasts of the Southern Wild(2012), Dir. Benh Zeitlin
7 p.m., Arey 5
In a forgotten but defiant bayou community cut off from the rest of the world by a sprawling levee, a six-year-old girl exists on the brink of orphanhood. Buoyed by her childish optimism and extraordinary imagination, she believes that the natural world is in balance with the universe until a fierce storm changes her reality. Desperate to repair the structure of her world in order to save her ailing father and sinking home, this tiny hero must learn to survive unstoppable catastrophes of epic proportions.
---
November 30
Environmental Humanities workshop
Dr. Greta Gaard, University of Wisconsin
9 a.m.- noon, Grossman 209/210
The Environmental Humanities Faculty Seminar is offering an environmental humanities workshop, led by Dr. Greta Gaard, for faculty. A small stipend will be available for faculty who attend.
A member of the Association for the Study of Literature and Environment (ASLE) since 1995, Greta Gaard is Professor of English and founding Coordinator of the Sustainable Justice Minor at the University of Wisconsin-River Falls. She has served on the Executive Council of ASLE, and continues to serve on Editorial Boards for ecocritical and environmental humanities journals such as Ethics and Environment, Interdisciplinary Studies in Literature and Environment (ISLE), Climate Justice Press, and more. In 2014, Gaard served as an invited member of the International Review Committee for Mistra/Formas of Sweden, evaluating proposals for five-year funding of Sweden's Environmental Humanities Consortium. Author or editor of six books, and over 100 articles and international presentations, Gaard's most recent volume, Critical Ecofeminism, appeared in May 2017. Her creative nonfiction eco-memoir, The Nature of Home, has been translated into Chinese and Portuguese.
---
Spring 2019 Semester
February 26 to March 1st
Visit by Mark Dion, the 2019 Mellon Distinguished Fellow in the Environmental Humanities
On Tuesday, February 26th, award-winning contemporary artist Mark Dion will be arriving on Colby's Campus. For the next four days, he will be visiting classes, such as Mellon Postdoctoral Fellow Chris Walker's "Life in the Age of Extinction", where he'll share a lunch with members of the class; and Faculty Fellow of Art Amanda Lilleston's printmaking course, where he'll make a print alongside students. On Wednesday at 7 PM, he'll give a free public lecture at the Ostrove Auditorium in the Diamond Building, followed by a book signing. He'll meet with the Lunder Institute, the Environmental Humanities Faculty Seminar, and the EH Student Advisory Board.
Mark Dion was chosen as the 2019 Mellon Distinguished Fellow in the Environmental Humanities due to his extraordinary environmentally-themed artwork, which has won many awards and been displayed in galleries across the world. Below are some of his art installations which we found particularly striking.
---
March 3
Nostalgia for the Light (2010), Dir. Patricio Guzmán
Environmental Humanities Film Screening
7 p.m., Arey 5
Nostalgia for the Light is a documentary addressing the lasting impacts of Augusto Pinochet's dictatorship of Chile. Guzmán focuses on the similarities between astronomers researching humanity's past, in an astronomical sense, and the struggle of many Chilean women who still search, after decades, for the remnants of their relatives executed during the dictatorship. Patricio Guzmán narrates the documentary himself and the documentary includes interviews and commentary from those affected and from astronomers and archaeologists.
---
March 19
The Tree of Life (2011), Dir. Terrence Malick
Environmental Humanities Film Screening
7 p.m., Ostrove Auditorium, Diamond Building
The Tree of Life is a 2011 American experimental epic drama film written and directed by Terrence Malick and featuring Brad Pitt, Sean Penn, and Jessica Chastain. The film chronicles the origins and meaning of life by way of a middle-aged man's childhood memories of his family living in 1950s Texas, interspersed with imagery of the origins of the known universe and the inception of life on Earth.
The Tree of Life premiered in competition at the 2011 Cannes Film Festival, where it was awarded the Palme d'Or. It also received three Academy Award nominations: Best Picture, Best Director, and Best Cinematography.
---
April 10
The Girl With All the Gifts (2016), Dir. Colm McCarthy
Environmental Humanities Film Screening
7 p.m., Arey 5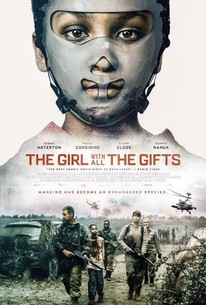 The Girl with All the Gifts is a 2016 British post-apocalyptic zombie horror drama film directed by Colm McCarthy and written by M.R. Carey, adapted from his novel of the same name. The film depicts a dystopian future following a breakdown of society after most of humanity is wiped out by a fungal infection. The plot focuses on the struggle of a scientist, a teacher, and two soldiers who embark on a journey of survival with a special young girl named Melanie.