When I first applied for "The Art of Fly Fishing" course, I wrote much on my application about the time I had spent sailing. I found many connections between sailing and fly fishing, and used that to show that I had the necessary qualities to make the most of the trip to Owen's Valley and to appreciate the course.
However, upon reflecting back on my experience fly fishing in bishop, I found many more connections between skiing and fly-fishing.
Below is a list of, to me, the largest similarities between fishing and skiing.
1.    The Outdoors
In both skiing and fly fishing, while participating in the sport, you gain a huge appreciation for the natural world around you. It also serves as a way to escape modern life and the stresses associated. While skiing and fly fishing, I both reflect and forget, and afterwards reach new understandings and feel refreshed. There is something magical about both sports that makes me feel connected to whatever mountain or river I am at.
2.    Lack of, but appreciation for competition
Although, in both sports, it is possible to compete, at the end of the day that is not what it is really about. I competed for over nine years in skiing, and although I love competition and the rush associated with winning, that is not what kept me in the sport. The reason I continued to ski moguls was because of my pure love for the experience of skiing. Freeskiing is going to be in the 2014 Olympics for the first time; when talking to athletes about this change there is an air of excitement but also apprehension.
"This is a lifestyle sport proud of its relaxed, matey atmosphere. It is nice to think of it as an antidote to the win-at-all-cost cut-throat-philosophy of more mainstream sports," said an article about maintaining the "free" in freeskiing.
I believe that this same attitude holds true in fishing. While people love to compete, that's not what its all about. The tie that binds fishermen together is the pure love for the experience of fishing.
3.    Modesty makes Friends
In skiing and fishing, it is clear when someone is voicing beyond their ability, but to make friends with the real pros and rack their brain for tips, it is necessary to hold your ability in perspective. If you show respect, humility, and an eagerness to learn, then, no matter your ability, the Best will begin to spill their secrets for success. Whether it's how they get their mute grab to be so pronounced or the best fishing hole in the area, modesty is what makes people want to connect with you and help you, not bragging or overconfidence.
4.  Patience
Although patience may not be evident when a skier is ripping down a powder line under the lift inches from brain busting trees, all good skiers know the patience it took for that skier to get to their level. In fishing, no matter how desperately you want a fish, throwing your rod like a jack hammer won't get you there any faster. Similarly, in skiing taking the time to take a break from the chutes and hone in on your technique on the flats is often more productive.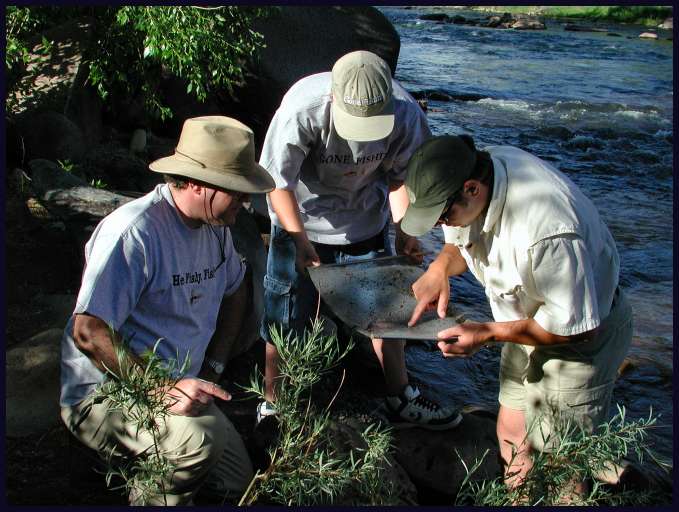 5.    The Culture
Trout Bums. Ski Bums.
No matter what physical state of water they prefer, there is a distinct culture surrounding both these groups of people.
A true skier knows a true skier, and a true fisherman can always spot a fake.
It's an underlying connection that binds the sportsmen together. I have felt the power of this existential link when I meet a new person and then find out they are an avid skier; suddenly there is an unbreakable bond that, no matter who they are, includes a mutual respect for one another. This same experience I have seen among avid fishermen, like my friend Jake, who often embarks on fishing trips with a rather miscellaneous crew of people who, if not for their mutual love for the trout that lurk in Maine waters, would never have become friends.
6.    It's Expensive and Exclusive
Yes it's true, both these sports hold high costs because of the specific gear and rare locations, however whether you're on Mammoth Mountain or in Mammoth Lakes, you will find the most down to earth people in both these seemingly "waspy" sports.
7.    Addiction to a sensation
You're wet, cold, tired, sore and have been skiing or fishing nonstop for the past 10 hours – what keeps you coming back?
It's the sensation you feel when you finally hook that 20 inch trout or land your first back flip. That three second rush is what gets people hooked, and I immediately recognized it — that same rush I would get after a dangerously fast ski run —when I hooked my first trout.
When you see that bobber drop and your rod flies up as your arm muscles constrict against what feel like a black hole sucking your leader down, that's what keeps people coming back. It is a sensation that is extremely rare to find, and it's extremely addicting.